Propelling minority-owned
business success
Apply for Cohort 5
ECOSYSTEM BUILDING
explore
Connecting the Atlanta ecosystem and providing resources to recover and grow sustainable, profitable small businesses.

Empowering entrepreneurs
with expert education
Apply for Cohort 5
COMMUNITY BUILDING
Join our village and be empowered through community and knowledge
sharing to grow your business
explore

Positioning business
owners to lead the market
Apply for Cohort 5
LEADERSHIP BUILDING
Gain access to markets in the public, private, and government sectors while receiving coaching and guidance on landing new contracts
explore
who we are
Small business support ecosystem
Our mission is to rebuild, restore, and rethink the path to business success for Entrepreneurs of Color.
Management Education
Receive management training from top tier subject matter experts. Next cohort begins January 25th, 2021.
Access to Capital
Gain financial resources to grow and scale your business.
Access to Markets
Increase customer base through supplier diversity opportunities.
Community Building
Grow your network with founder peers and professional contacts.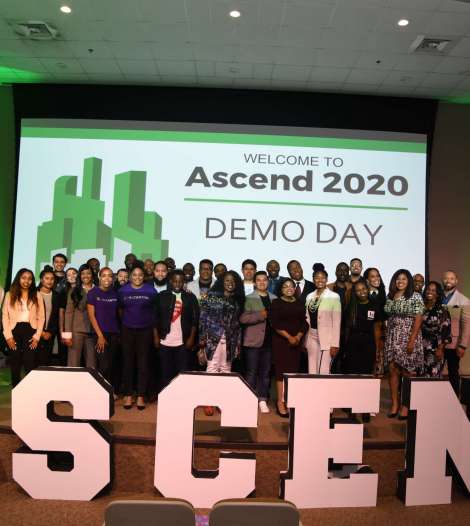 who we are
Created for Minority Entrepreneurs to ASCEND
JPMorgan Chase & Co. has partnered with Morehouse Innovation & Entrepreneurship Center, Village Micro Fund, Access to Capital for Entrepreneurs, and Atlanta Wealth Building Initiative to launch Ascend Atlanta, a small business support ecosystem for minority-led companies throughout Metropolitan Atlanta.
We work to provide access to management support, technical assistance, capital, and market pivoting strategies to increase our impact in the areas of long-term sustainability, revenue generation, job creation, and capital raised.
We build community by connecting our alumni and cohort members through peer learning, access to issue-specific guidance, and networking sessions to increase social capital and business development opportunities.
WHAT WE DO
We stand out with our 3-M model focused on growth & sustainability
Our 6 month curriculum focuses on growth strategy to increase revenue and long-term sustainability.
We help you gain access to markets and turn opportunity into customers.
We connect you with funders who offer debt and equity based funding to provide financial support for your business goals.
Our work is backed by research that provides a clear view on the needs of minority business owners. Check out the latest report conducted by AWBI by clicking here.
We offer back office support of consultants to support you one-on-one in the areas of digital marketing, e-commerce, accounting, and more.
testimonials
I can't speak highly enough about the Village Micro Fund and its facilitators. Atlanta offers many programs for aspiring and early phase entrepreneurs, but VMF's approach is different. The Village creates and fosters exactly what they promote — a community, a family, a village. In only a matter of months, complete strangers become friends and build upon an already established network of other small Black business owners. The program in conjunction with Ascend Atlanta, offers a solid foundation on which any CEO can build and what's taught is reinforced through practical application scenarios and real questions are answered in real time. I'll forever be grateful and appreciative to the Village Micro Fund for preparing me to live out my dreams of being a business owner and connecting me with other community-minded, driven entrepreneurs who have a common vision for the future.
Ascend Atlanta has helped our business grow tremendously by putting us in front of major corporations and connecting us with sales experts. I recommend every entrepreneur tap into this network!
I'm super grateful for everything this program has done for me and my business. Amidst a lot of craziness in the world, the resources and knowledge I gained from Ascend2020 helped me to increase like I've never done before. My on-demand talent app constructed in Ascend2020 is finally live in beta now!
our blog
Latest Posts & Articles
We post updates on our current and alumni companies along with news from our national network. Come see how we're ascending success for minority led businesses.
contact us
Have Any Questions?
We love connecting with the broader Atlanta ecosystem and welcoming other like-minded organizations for collaborative success. Send us a message and our team will get back to you soon.